'General Hospital' actor – Lindsey Pearlman passed away
The death of actress Lindsey Pearlland caused a great shock to the Hollywood cinema industry. People quoted the Los Angeles Police Department as saying that Lindsey Pearlman's body was found on the morning of February 18, inside a car near the entrance to Runyon Canyon Park in Hollywood.
Lindsey's husband – Vance Smith – confirmed the incident on his personal page: "The police found Lindsey Pearlman. She was gone, I was dumbfounded. I will share more at another time, but I wanted to say thank you to everyone who cared and loved her and also asked everyone to respect the family's privacy at this difficult time." On People, Michael Chiaverini – Lindsey's representative – hopes the public does not spread false rumors around the actress's death. "The family wants to have a private space to deal with things during this time," Michael said.
The post announcing the passing on social media was posted by the actress's husband
Lindsey was last seen at around 9pm on February 15 in Los Angeles. The family then called the police and posted the search information on social media. According to The Sun, actor and producer Vance Smith – Lindsey's husband reported the actress missing 5 days ago. He last saw his wife at 9pm on February 15 at North Mariposa Avenue, but Lindsey's body was found in a car parked a few kilometers away. At that time, the actress' body was in a state of being wrapped in a blanket.
Authorities have not released details about the cause of death or what happened. However, it is more likely that the actress committed suicide by a relative of hers who revealed a text message from Pearlman's sister, which asked to share the number of America's National Suicide Prevention Lifeline.
The beautiful appearance of actress Lindsey Pearlmand
Two women next door to Pearlman told the New York Post that she was last seen about a week before her death. At that time, she took her 12-year-old Chihuahua dog for a walk. "She looks really tired from her usual cheerful demeanor," one person said.
The news of Lindsey's death shocked friends and colleagues. Actress Lynn Chen praised Lindsey as a beautiful, talented, funny and compassionate person. Frank Valentini – producer of General Hospital – wrote on his personal page: "Lindsey Pearlman gave a great performance in General Hospital and we are saddened to learn of this tragedy. Our hearts go out to her family and friends."
Lindsey Pearlman is loved by her colleagues and full of praise.
Lindsey Pearlman happy with her husband.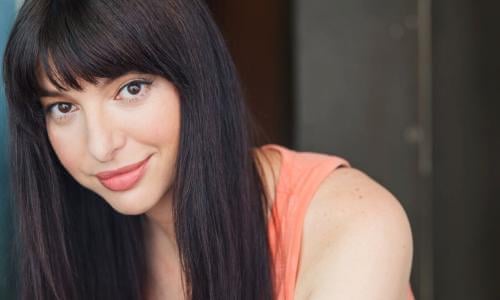 The departure of actress Lindsey Pearland shocked colleagues and fans
Lindsey Pearlman was born in 1978 in Chicago, USA. The actor is known to the audience through many movies and TV shows such as General Hospital, Empire, The Ms. Pat Show, Vicious, American Housewife, Selena: The Series… In real life, the actress is considered to have a cheerful and sociable personality. In 2014, she married actor and producer Vance Smith. The passing of the actress is a great loss for the world cinema.