Ninh Thuan Vineyard is fruitful in Bac Lieu
From the Lunar New Year to the present, many young tourists in the Mekong Delta provinces ride motorbikes to Hua Phong vineyard in Phuoc Long town, Phuoc Long district, Bac Lieu province to visit and take pictures. This Ninh Thuan vineyard has been planted by Mr. Phong for 4 years and has been bearing fruit for more than 3 years.
Passion
Talking to Zing, Mr. Phong said that his family has a ticket agent in Phuoc Long town. Therefore, grape growing is about spiritual value, taking the fruit of joy after a day of business outside the market.
Four years ago, during a trip to Ninh Thuan, Mr. Phong bought 80 vines and brought them back to the salty, salty land near Phuoc Long town to plant. In which, there are a few round fruits that were mistakenly sent by the hatchery owner, the rest are long fruits.
After 5 months of planting, Mr. Phong's vineyard started to flower. The first bunches of fruit grow fast, big and ripe as sweet as the grapes grown in Ninh Thuan.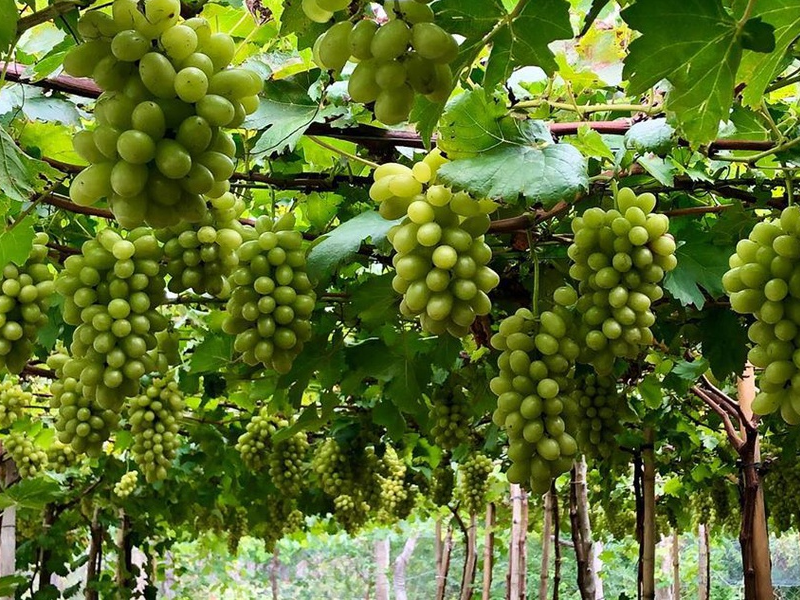 Mr. Hua Phong expects this vineyard to harvest fruit in the first week of March 2022
For the grapes to grow well, Mr. Phong fertilizer manure, rice husks and coir. Around the vines, the 44-year-old owner built bricks so that manure would not flow out every time he watered.
"On the vines, I cover them with tarpaulins because this type of crop does not tolerate much rain. The most extreme is to take care of the grapes because they are prone to leafhoppers. Every time a grape is infected, I have to wipe each fruit with a cloth, but I don't dare to spray pesticides. There have been many growers like me, but they are so extreme that they give up or fail with the right technique and fail. I don't give up because of my passion," Phong shared.
Not only growing grapes, in a small garden near the new administrative area of Phuoc Long district, Mr. Phong built a pond to raise Koi carp, planted more coconuts, pineapples, mangoes and many other fruit trees. All fruit trees are built with concrete boxes around and the path is paved with clean ceramic tiles.
Community tourism
Mrs. Sau Hang (Mr. Phong's mother-in-law) said that since having a vineyard, many students, students and young people from neighboring provinces come here to visit and take pictures.
The image of this community tourist spot is spread on social networks, so tourists from Ho Chi Minh City, Long An, Can Tho,… When coming to Bac Lieu or Ca Mau, they all come to Hua Phong vineyard.
A bunch of ripe grapes weighing 1.5 kg or more
Ms. Hang said that a year harvests from 3 – 4 crops. After harvesting, about 20 days the grapes continue to flower, giving luxuriant fruit.
"In order for the grapes not to lose their strength, my son-in-law chose only the best 3 bunches of each root. A bunch of ripe grapes weighing 1.5 kg or more. Each grape crop my family harvests more than 200 kg, selling for 200,000 VND/kg. This year, affected by the epidemic, people have a lot of difficulties, so Hua Phong told me that he will sell 150,000 VND/kg. The grape rig next to the house takes about a week to harvest," said Mrs. Hang.
In addition to taking care of the grapes, Ms. Hang also opened a refreshment shop, setting tables under the vines to serve visitors. A fruit harvest period lasts about 2 weeks. Ms. Hang often picks wild vegetables and fried pancakes to sell so that tourists can both enjoy the rustic delicacies and take pictures of Ninh Thuan grapes in Bac Lieu.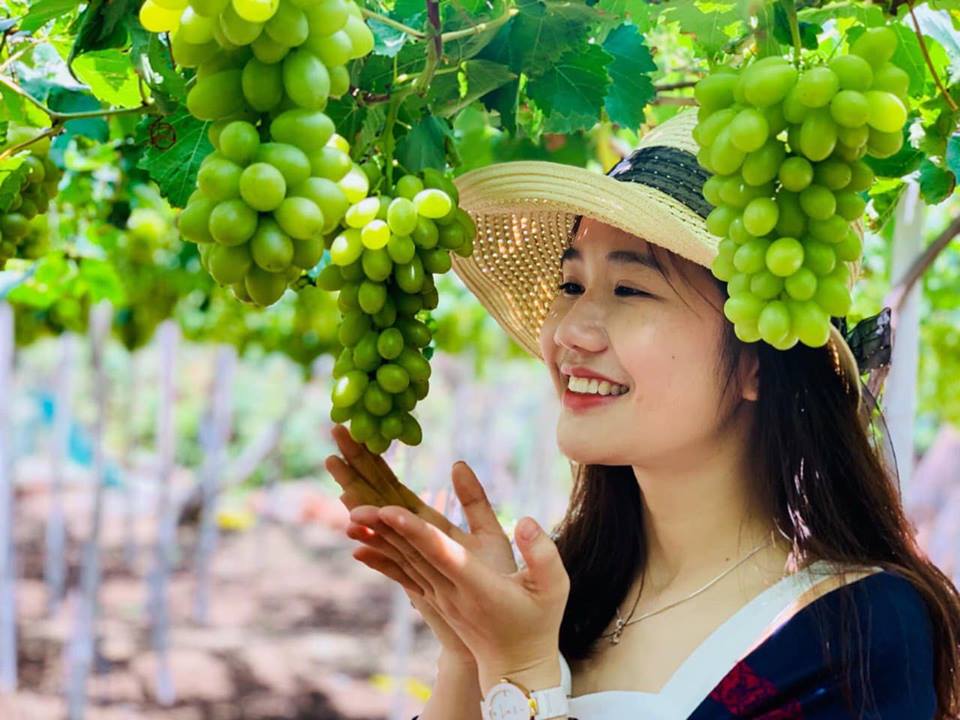 Tourists come to visit and take pictures at Hua Phong vineyard
Currently, Mr. Phong is planting a third vineyard to serve the tourist needs of people in the West. Authorities in Bac Lieu province are encouraging the community-based tourism model. Ms. Hang also plans to fry pancakes to sell more on Saturdays and Sundays to attract tourists near and far.
Hua Phong Vineyard evokes business inspiration for tourists
Talking to Zing, Mr. Nguyen Duy (a tourist from Soc Trang province), said that in addition to taking his wife and children to visit and eat, this man is asking Mr. Phong to help plant a vineyard in Ho Chi Minh City. Soc Trang to open a refreshment shop.
According to Mr. Duy, in Soc Trang, there are coffee gardens with dragon fruit, longan gardens, etc. Therefore, the opening of more vineyards is in line with the development direction of the tourism industry in the Mekong Delta.